Bed bugs are among the most infamous pests out there. These tiny parasites are notoriously adaptable and very difficult to detect even when a severe infestation is present. 
Their bites are both unsightly, irritating, and can cause significant stress. In fact, the mere thought of bed bugs inside one's home is enough to impact a person's mental and emotional well-being.
So, how can you tell that you have bed bugs?
This gallery contains a variety of images of bed bugs, bed bug bites, and signs of infestation. There are also comparisons between bed bugs and similar-looking insects, as well as the differences in insect bites.
Bed bugs have a distinct color. After a feeding,...
Bed bugs are smaller than the size of a...
Here is a picture of a bed bug on...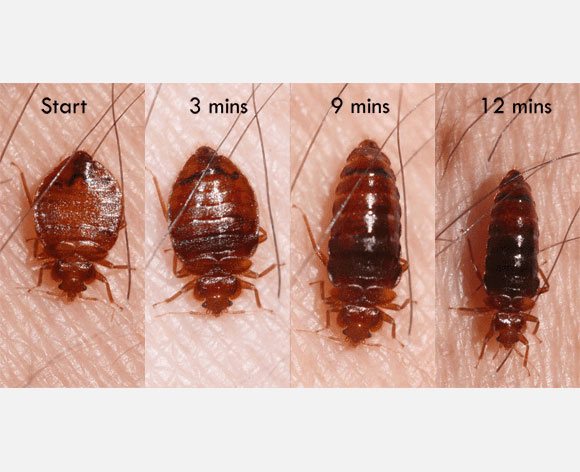 This is a timelapse of a bed bug during...
Bed bugs go through several larval stages before reaching...
Bed frames are one place where bed bugs typically...
Pictured here are bed bugs in a sink. Since...
Bed bugs are also vulnerable to cold temperatures. Frequent...
Bed bug droppings appear as black specks. Fecal matter...
Here are some bed bug droppings on an infested...
Bed bug eggs are translucent in color. Commonly found...
Note the size of the eggs compared to the...
Humans can crush bed bugs while they are sleeping....
Here are some additional bloodstains on hotel bedsheets. The...
Notice how fresh the bloodstains are on this tissue....
Here is a major stain on a Nashville apartment...
Bed bug bites appear as red-colored welts. They are...
Bite marks appear several hours after a bed bug...
Itching a bed bug bite can aggravate the wound....
Bed bugs can be commonly confused for ticks. One...
Bed bug bites are also smaller, and may form...
Bed bugs are commonly mistaken for Fleas. While bed...
Flea bites are harder to distinguish from bed bug...
It's easier to tell a bed bug bite from...
The first step in eliminating a bed bug infestation is to educate yourself about these pests. 
This photo gallery contains the basic essentials of how to identify bed bugs, but there's still so much to learn about these parasitic pests.
If you're ever in a situation where bed bugs have infiltrated your home, it's common to ask yourself the following questions:
Do bed bugs go away on their own?
Is it safe to remove bed bugs myself?
For all the answers, check out our blog!
There, you'll find in-depth articles about bed bugs, ways to identify, and methods of removing these creatures from your home.
The blog also includes information on how to pursue legal action related to bed bugs. If you're wondering whether or not you can sue for damages caused by bed bugs…
You can request a free consultation in less than 60 seconds!